Edition 2020 / Fugindo do Frio
Your next kitesurf adventure
Kitetrip in northeastern Brazil
KITETRIP WITH EXCLUSIVE DESTINATIONS - 9 DAY TRAVEL PACKAGES CUSTOMIZED ACCORDING TO YOUR EXPERIENCE - INCREDIBLE DOWNWINDS - FLATS AND WAVES
Ceará, Piauí and Maranhão are privileged to have a regularity of winds and perfect conditions, for this reason, they are the scene of the best kitesurfing in the world. This coast presents breathtaking sights, excellent water conditions, from flat to waves, providing large extensions downwinds and perfect spots still porly explored.
EVOLUTION
9 days of total immersion and evolution guaranteed!
HAVE A GOOD TIME
Enjoy the sailing in paradisiacal places.
Perfect conditions!
EXPERIENCE
Discover incredible places to practice Kitesurf!
Get to know the Coaching Freestyle and Kitewave, certified by IKO. Contact us to find out more.
PACKAGE 9 DAYS / 100% KITESURF.
Small classes, personalized schedules
Waves, Flats, Sea, Ponds and Rivers
TECHNICAL MONITORING

Experienced and highly qualified team with IKO International Kiteboarding Organization certification.

SPECIFIC PROGRAMMING

Each group with specific programming and itinerary, according to the technical level and interest, for the best use.

4X4 TOURS

The authentic kitesafari, we discovered the best kite spots with two Land Rovers Defend 110.
ACCOMMODATIONS WITH BREAKFAST

Accommodations with breakfast reinforced to take enjoy of the best itineraries.

COVERAGE OF IMAGES WITH PHOTOS AND MOVIES

Basic package included. Photos and movies to record the best moments of kitesafari.

ADVENTURE SPORTS INSURANCE

Travel peacefully and safely.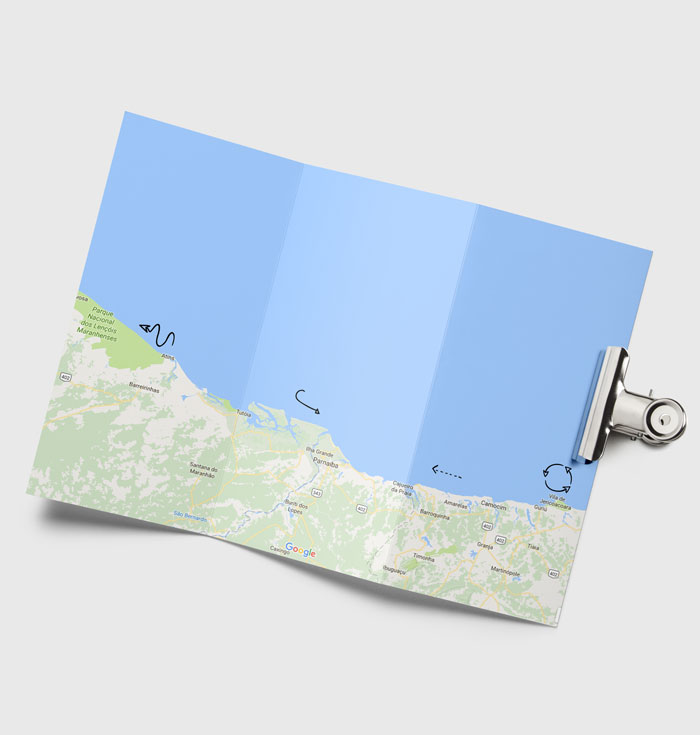 1º Period August 15 to 23

Downwind Leve - Paracuru à Tatajuba (Jericoacoara)

2º Period August 22 to 30

Downwind Leve - Parnaíba/Piauí à Tutóia/Maranhão com pernanência dentro do Delta do Parnaíba.

3º period is from August 29 to September 06

Downwind Leve - Parnaíba/PI aos Lençóis Maranhenses/MA

4º Period September 05 to 13

Downwind Delta do Parnaíba e Lençóis Maranhenses até Santo Amaro/MA

5º Period September 12 to 20

Downwind Delta do Parnaíba e Lençóis Maranhenses até Santo Amaro/MA

6º Period September 10 to 27

UNDEFINED

7º period is from September 26 to October 04

Family and beginner

8º Period October 03 to 11

Kitesafari médio - Jericoacoara a Barra Grande

9º Period October 10 to 18

Programação no Delta do Parnaíba/PI.
We loved the family holiday program (kids 10 and 13), could not be better. Paradise landscape, new friends, and a wonderful sport with accompanying Top. The staff of instructors extremely helpful, competent and very patient. You learn between jokes and good humor. High level lodging. Highly recommend!

I, my wife and my sons Marcelo 13, Lucas 10, Gabriela 10, spent a wonderful week in Guajiru with the Mangaviento team, who was always very helpful and always available !!!! Thank you Fumaça, Vika and Cassiano

I, my daughter 13 and my spouse, participated in this epic ride for the first time. It is an immersion of Kitesurf in one of the most beautiful places of the Brazilian coast where we learn and experience the pleasure that is the practice of kitesurfing. Also note the professionalism of the organizers / teachers always attentive to the safety and well-being of the group. Finally, it remains to be said that we will return in the sequence. Worth it.

I've been going to Ceara for 4 years with this group, I recommend it !!! Personal nice and almost private sailing in paradisiacal places for kitesurfing. Whenever I can, I'll ... Hugs and good winds to all

Meet amazing places, sail with your friends every day, that's wonderful. But what motivates me the most at FDF every year is the unique opportunity for personal growth in direct contact with nature.

I was a student of MangaViento a few years ago !!!! This trip of Fugindo do Frio was the first time I participated and I loved it !! The places are beautiful, the trip was very well organized, the evolution of sailing was clear, staff always high spirits, everything very ten !! Next year and next my place is guaranteed !! And for those who are afraid to crash, do not worry !!! Medical assistance is fast, local hospital has a very efficient and effective care! Vika and Smoke always have an eye for everything to be 100% solved in the best possible way! I could have that experience too !! Bottom line: Super recomend!!
Escape from the cold and enjoy this adventure!
Open Enrollment / Limited Vacancies..
RESARVE YOUR LOCATION